Construction
Wind turbines
We are proposing to use three-bladed wind turbine generators (similar to those pictured). These will include the following elements:
Rotors, including blades and a hub (which connects the blades to the shaft and drive train).
Nacelle (which houses the electrical generator, control electronics and drive system).
Structural support, which includes a tubular steel tower on top of a foundation structure.
The layout and design of the wind farm
The exact layout of the wind turbine generators is still being developed and would not be finalised until after the project is granted a positive consent decision by the Secretary of State for the Department of Energy Security and Net Zero.
Wind turbine generators will be set out in rows. In-row spacing (the space between each individual wind turbine generator in a row) will be a minimum of 875 metres (or 0.54 miles). Inter-row spacing (the space between each row of wind turbine generators) will be a minimum of 1000 metres (or 0.62 miles).
There may be empty spaces within the wind farm site. This may be due to certain less favourable seabed conditions or, for example, because we need to keep away from existing infrastructure.

Click image to enlarge
Pinch to zoom
The components of the Morgan Offshore Wind Project
Online webinar event
Watch the recording of our online consultation event, broadcast on 3 May 2023
Watch recording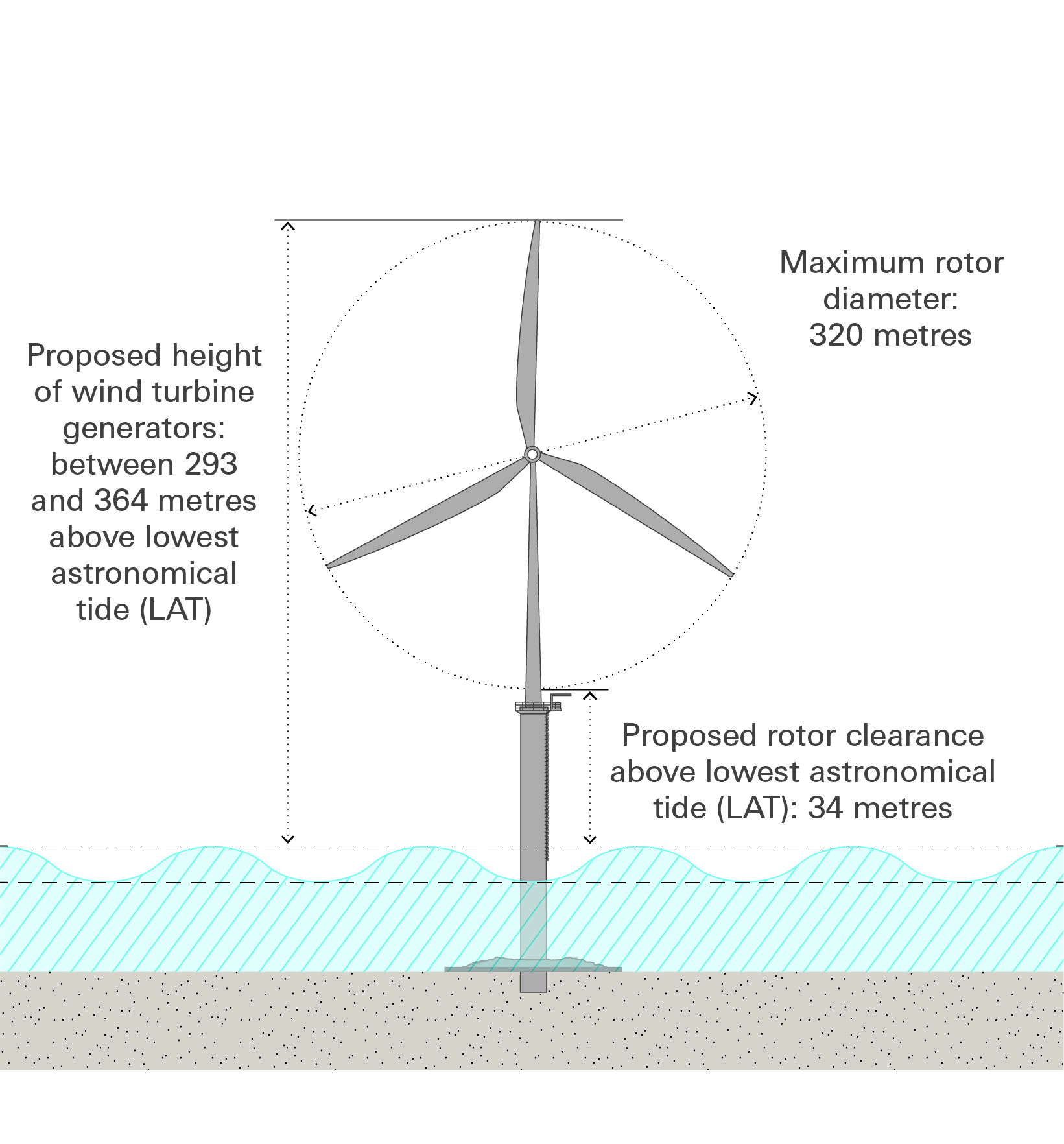 Click image to enlarge
Pinch to zoom
Fast facts: wind turbine generators
This information is based on current understanding and may be refined once consultation has closed and ahead of submitting our DCO application. These numbers are assuming the generation of 1,500 megawatts of electricity.

Proposed number of wind turbine generators: up to 107
Proposed rotor diameter: 320 metres

Proposed height of wind turbine generators: between 293 and 324 metres above the lowest astronomical tide (LAT)
Proposed rotor clearance above lowest astronomical tide (LAT): 34 metres

Fast facts: offshore substation platforms (OSPs)

Proposed maximum number of OSPs: 4
Proposed maximum topside width ('topside' meaning the main structure on top of the foundations above the sea surface): 60 metres

Proposed maximum topside length: 80 metres
Proposed highest point of topside (above LAT), excluding the helicopter landing pad and lightning protection: 70 metres

Fast facts: Inter-array cables
These are installed to connect individual wind turbine generators and also connect wind turbine generators to OSPs.

Proposed maximum length of inter-array cables: 500 kilometres (310.69 miles)
Proposed maximum width of disturbance due to installation and burying of inter-array cables beneath the seabed: 20 metres per cable

Proposed depth for burying inter-array cables: 0.5 to 3 metres
Anticipated percentage of cable unburied because of certain ground conditions and requiring to be protected: 10% (this is a 'worst-case' assumption)

Fast facts: inter-connector cables
Should the project require up to four OSPs, inter-connector cables will be needed to connect each OSP and enable the transfer. They would also ensure that electricity transmission can continue should one cable fail.

Proposed maximum number of cables: 3
Proposed maximum length of all three cables: 60 kilometres (37.28 miles)

Proposed maximum number of trenches required to bury the cables: 3